Free Shipping On All Orders Over $60.
Wi -Fi visible wax elimination spoon, USB 1080P HD load otoscope
👇Wi -Fi visible wax elimination spoon, USB 1080P HD load otoscope👇👇
Wi -Fi visual connection can be perfectly combined with Android and iOS devices. It can be connected at 32.8 feet. You can also connect to the tablet. The ausar is equipped with a 3 -axis gyroscope, which can provide soft image transmission, which helps the operating of the earzomett.
High-definition effective pixels, 3P medical-grade endoscope: use optical lens and high-performance 500W pixel CMOS sensor to explore a variety of perspectives in the ear to make a variety of possibilities in the future (lens diameter: 3.5mm, best focal length: 15-20mm, depth of field depth of field : 10-50mm)
6 cold light LED lights can help you illuminate the channel and see the dark places clearly. Do not worry why it warms up or cold, the integrated system will control it at a constant temperature.
Waterproof IPX5 is easy to clean and has a long shelf life. USB is quickly charging, which can be completely loaded in only one hour and can be used continuously. It can be used for 14 days after 5 minutes a day.
In a large number of applications, you can not only observe the auditory channel, but also check the ears, mouth, throat, nasal cavity, scalp hair and other parts of the body. This is an important tool for family health.
Innovative technology: PC+silicone elastic ear spoons, gentle and comfortable ears and pain (Note: prohibit children under 3 years old)
Can replace the ear spoon head, remove cross -infection! 2PCS ear spoons have been upgraded to two different materials from the previously PC: zinc alloy ear spoons silicone, not easy to break; exclusive silicone+PC two -color ear spoons
Product Detail:
Condition: 100% new
Color: black, white
Pixel: 1080p
Frequency of operation: 2.4 GHz.
Image transmission rate: 30 fps
Image sensor: CMOS
Working room temperature: 14.0-122.0 ° F
Battery type: lithium battery (integrated).
Battery duration: approximately 180 hour.
Load time: 1 hour.
Battery capacity: 130 mAh.
Input current: CC 5 V 300 Ma.
Lens diameter: approximately 0.2 inches.
Focal length: 0.6-0.8 in
Gravity sensor: 3 axes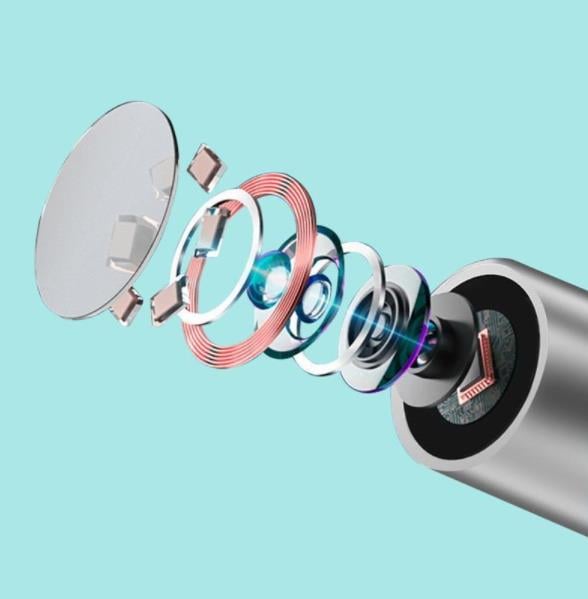 Package list:
1 Wi -Fi otoscope.
4 Spoons for ears.
1 USB data cable.
1 bottle of spoon device for ears
1 Instructions
Address:
919 North Market Street, Suite 950
Wilmington, Delaware 19801
United States
Email us: support@giftfavourite.com
Office Hours: Mon-Fri, 8am-12:00pm – 1:30pm-6pm Eastern Time
Copyright © 2023, GiftFavourite.