Free Shipping On All Orders Over $60.
NOW WE SAY BYE TO THE FLEAS
With love and care, we wage war against fleas, shielding our cherished pets from discomfort, ensuring their joy and well-being.
COMBS & VACUUMS
the flea removal is a comb and vacuum, specifically created for your pet's coat, effortlessly eradicating undesirable parasites by capturing and securely storing them for easy disposal.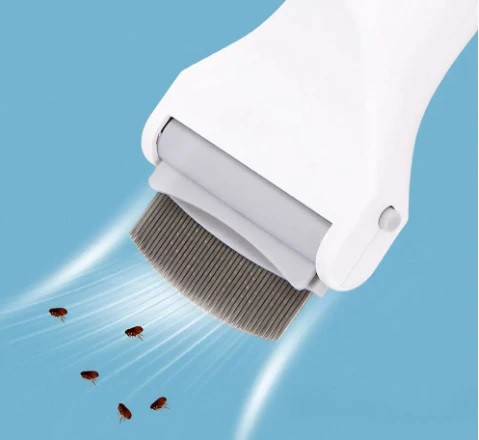 EASY TO USE
Made with a wonderful and simple design that is easy to use on pets
DEEPER CLEAN
A specialized design that significantly enhances flea removal by directly targeting them on your pet's fur. Each Steel bristle is
tightly compacted together to increase flea capture while
providing a deeper clean for even the thickest coats.
FLEA BAGS
unparalleled safeguarding with our intricately designed Disposable Capture Filters. These filters provide supreme defense,encompassing fleas, to ensure utmost protection.
FREQUENTLY ASKED QUESTION?
Q. Are electric dog flea removal devices safe for my pet?
A. When used according to the manufacturer's instructions, electric dog flea removal devices are generally safe for pets. However, it's essential to choose a reputable brand and carefully follow the usage guidelines to ensure the safety of your dog. Consult your veterinarian if you have any concerns or specific questions about using these devices.
Q. Do electric dog flea removal devices work on all types of fleas?
A. Electric dog flea removal devices can be effective against various types of fleas, including common cat fleas and dog fleas. However, their effectiveness may vary depending on the specific device and the flea population in your area. It's important to research and choose a device known for its efficacy against the particular type of fleas affecting your dog.
Q. Can electric dog flea removal devices be used on puppies?
A. Electric dog flea removal devices are generally safe to use on puppies, but it's crucial to check the manufacturer's guidelines to ensure the device is suitable for young dogs. Some devices may have age or weight restrictions, so it's essential to choose a product specifically designed for puppies or consult your veterinarian for advice.
Address:
919 North Market Street, Suite 950
Wilmington, Delaware 19801
United States
Email us: support@giftfavourite.com
Office Hours: Mon-Fri, 8am-12:00pm – 1:30pm-6pm Eastern Time
Copyright © 2023, GiftFavourite.