Free Shipping On All Orders Over $60.
This is an educational dog toy. Dogs can effeetively improve their intelligence by using this toy.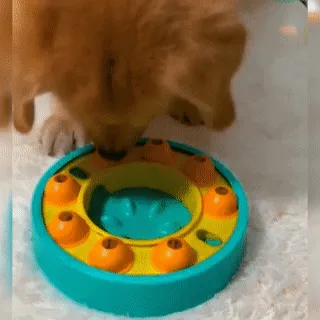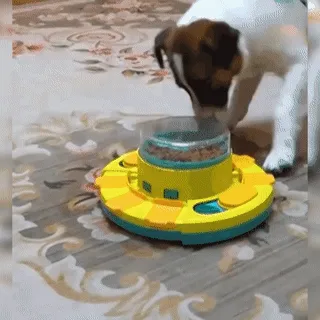 Dog puzzle toys: Can improve the dog's intelligence by using this puzzle toy and will surround happiness and positive vibes, keep doggies away from daily boring anxiety and Makes the dog and owner closer.
Mobile food leakage turntable: The top of the toy is designed with food leakage turntable, There are several rotatable food leakage boxes on the track of the turnitable. Dog food or snacks can be put into the hole on the top of the tood leakage box, the dog tums the granary box with claws.
Slow food bowl design:The middle of the toy is designed with a slow food column. You can also directly put dog food or snacks into it and use it as a slow food dog bowl. By extending the dog's eating time, protect the dog's gastrointestinal health.
Non-slip gel pad design:The bottom of the toy is designed with 4 Non-slip gel pad, which can firmly absorb the toy on the smooth ground and prevent the dog from knocking over the toy when playing or eating, no glue marks will be left on the ground after the toys are removed.
Easier to put treat and clean: can easily put doggy food from the top of the hole, directly, A small funnel is included, which is simple and easy to use and after use, you can wash it directly with clean water and wipe it dry for next use.
Note:
For the very first time using, the owner should teach the doggy to use it by holding doggy's paw, please repeat the steps of rolling the food dispenser box, the doggy food will be dropped off from it, doggy will obsess with it, meanwhile, it learned to use it very fast.
Address:
919 North Market Street, Suite 950
Wilmington, Delaware 19801
United States
Email us: support@giftfavourite.com
Office Hours: Mon-Fri, 8am-12:00pm – 1:30pm-6pm Eastern Time
Copyright © 2023, GiftFavourite.